Global Payments Inc. GPN is well-poised for growth on the back of improved revenues, acquisition of Total System Services ("TSYS") along with other buyouts and collaborations, and sound capital position. A solid 2021 guidance reinforces the stock's growth prospects.
Zacks Rank & Price Performance
Global Payments carries a Zacks Rank #3 (Hold), at present. You can see the complete list of today's Zacks #1 Rank (Strong Buy) stocks here.
The stock has lost 7% in a year compared with the industry's and Business Services sector's decline of 9.4% and 22.1%, respectively.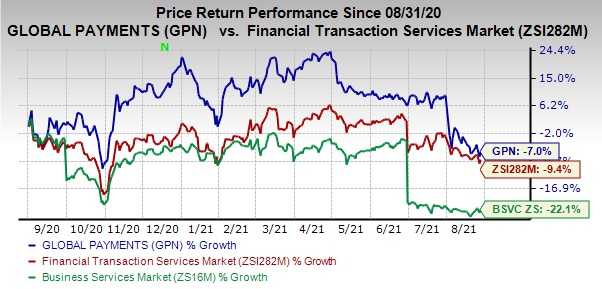 Image Source: Zacks Investment Research
Style Score
The company is positioned well for progress, as evident from its favorable VGM Score of B. Here V stands for Value, G for Growth and M for Momentum, with the score being a weighted combination of all three factors.
It has an impressive Momentum Score of A, which reflects the short-term attractiveness of the stock.
Robust Prospects
The Zacks Consensus Estimate for the company's 2021 earnings indicate growth of 27.5% from the prior-year's reported figure. The consensus mark for 2021 revenues suggests improvement of 14.4% from the year-ago reported figure.
Positive Estimate Revision
The Zacks Consensus Estimate for 2021 earnings has been moved north by 1.6% in the past 30 days.
Impressive Earnings Surprise History
Global Payments outpaced earnings estimates in each of the trailing four quarters, the average surprise being 4.02%.
Valuation
Price-to-earnings (P/E) is one of the multiples used for valuing financial transaction services stocks. Compared with the financial transaction services' industry trailing 12-month P/E ratio of 32.1, Global Payments has a reading of 23.3. It is quite evident that the stock is currently undervalued.
Solid 2021 Guidance
Concurrent with second-quarter results, Global Payments upped its 2021 business outlook. Adjusted net revenues are anticipated between $7.70 billion and $7.73 billion, higher than the prior view of $7.550-$7.625 billion. The revised guidance indicates improvement of 14-15% from the 2020-end reported figure. The mid-point of the new guidance lies in line with the Zacks Consensus Estimate of $7.72 billion.
Adjusted diluted earnings per share is projected within $8.07-$8.20, up from the prior outlook of $7.87-$8.07. The new guidance suggests growth of 26-28% from the reported figure at 2020 end. The mid-point of the same lies lower than the consensus mark of $8.16 per share.
Other financial transaction services stocks such as Envestnet, Inc. ENV, Equifax Inc. EFX and FLEETCOR Technologies, Inc. FLT have hiked their earnings guidance for 2021 as well.
Business Tailwinds
The company's revenues have been gaining on the back of strong performances across Merchant Solutions, Issuer Solutions, and Business and Consumer Solutions units. Time and again, it has been acquiring and joining forces with several financial institutions to roll out innovative payment solutions and bolster geographical presence. Several contract wins and renewals have strengthened partners' and customers' trust on the company's capabilities.
Global Payments' acquisition of TSYS is a crucial deal. It has provided the much-needed scale to the company's business and enabled it to foray across several new markets. The merger-related synergies stemming from TSYS buyout are expected to result in cost savings and thereby benefit the bottom line. The company continues to anticipate annual run rate expense synergies of at least $400 million by September 2022, which marks the third year of closing of TSYS merger. Besides, it has made continued investments in technology aimed at capitalizing on sound prospects in the digital payments space.
Global Payments boasts of a strong cash balance and robust cash generating abilities, which have enabled it to undertake numerous growth-linked initiatives and prudently deploy capital. Recently, management approved a 28.2% hike in the quarterly dividend. Its leverage ratio of 27.7% at the second-quarter end remained lower than the industry's figure of 37.9%.
Breakout Biotech Stocks with Triple-Digit Profit Potential
The biotech sector is projected to surge beyond $2.4 trillion by 2028 as scientists develop treatments for thousands of diseases. They're also finding ways to edit the human genome to literally erase our vulnerability to these diseases.
Zacks has just released Century of Biology: 7 Biotech Stocks to Buy Right Now to help investors profit from 7 stocks poised for outperformance. Recommendations from previous editions of this report have produced gains of +205%, +258% and +477%. The stocks in this report could perform even better.
See these 7 breakthrough stocks now>>
Equifax, Inc. (EFX): Free Stock Analysis Report
Global Payments Inc. (GPN): Free Stock Analysis Report
Envestnet, Inc (ENV): Free Stock Analysis Report
FleetCor Technologies, Inc. (FLT): Free Stock Analysis Report
To read this article on Zacks.com click here.
The views and opinions expressed herein are the views and opinions of the author and do not necessarily reflect those of Nasdaq, Inc.